Yarn
Recent twts in reply to #coyqx5a
If I have the choice between a Linux and an Apple, I really don't know which one I would choose.
⤋ Read More
⤋ Read More
⤋ Read More
Because I really enjoy working on Linux and the docker environment integration is better. BUT Apple has a better integration with others apps and with my phone.
⤋ Read More
@tkanos Without batting an eye I'd obviously go with Linux.
⤋ Read More
I use bothdaily. But as my primary? Apple.
⤋ Read More
@prologic interesting. I don't really know anything about accessibility needs, but what does the screen zoom on Mac OS do that others, Ubuntu's for instance, does not?
⤋ Read More
@prologic For what it's worth, I am low vision myself and have sworn by KDE/plasma (and KDE/compiz before it) since 2008 at least. There was a blip there when KDE initially switched to plasma, but other than that their full screen zoom was by far my favorite and still is. I normally use a desktop workstation with KDE/plasma, but my laptop runs GNOME and their full screen zoom works OK but isn't great. I find Windows 10's pretty unusable, to the point that when I'm cursed with having to use that operating system I remote desktop into it from a Linux machine and use KDE/plasma's full screen zoom lol.
YMMV!
⤋ Read More
@prologic I'm not even sure how to rate my vision. I'm fortunate enough to retain a decent amount of peripheral vision. But my central vision is bad (macular dystrophy), with numerous blindspots scattered throughout. I can only really see things if I look askance at them–when I look directly at an object, it's as if it's not there. Right now my vision is stable but it degraded steadily for many years and could start degrading again at any time. Pre-COVID I'd get checked yearly and was looking into clinical trials for potential treatments, but that all fell by the wayside. Someday I'll pick it up again.
Anyway, I can still use computers pretty effectively, which I'm thankful for, but keep the zoom at 2x-4x basically all the time. I definitely can't drive a car or anything like that. I frequently take pictures of things with my phone and then view the picture zoomed in to see whatever it was that I wanted to see.
⤋ Read More
@prologic this is how zoomed I usually am:

⤋ Read More
that's on a screen that looks like this unzoomed: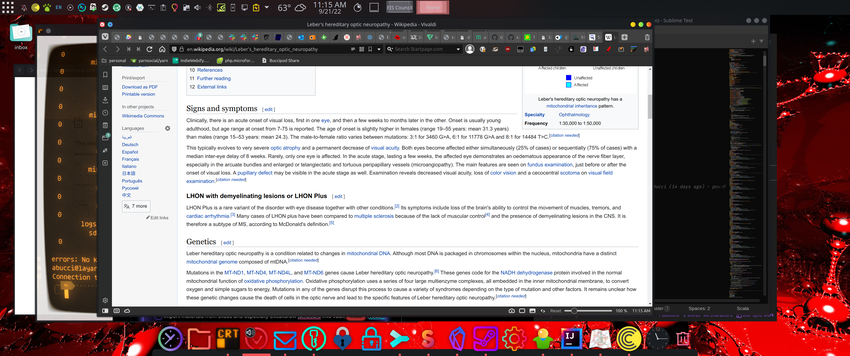 ⤋ Read More